The following is a review of Rob Bell's book Velvet Elvis published in 2012.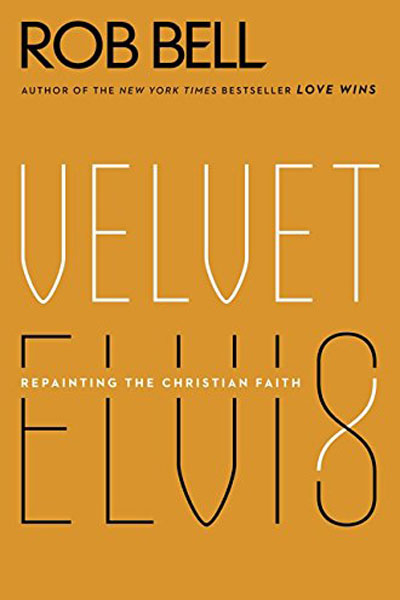 Velvet Elvis
After reading Velvet Elvis by Rob Bell, I was quite saddened because I know that many in our day will probably buy into the relativistic thought.
Below are a few quotes by Rob Bell in Velvet Elvis followed by Scripture and my comments. You will see Bell leads one through a mystical journey of "self-discovery and change" – not based in propositional truths found in Scripture, but in his own inner feelings of spirituality and well-being. You will see this as the quotes and comments unfold.
"The Christian faith tradition is filled with change and growth and transformation. Jesus took part in this process by calling people to rethink faith and the Bible and hope and love and everything else, and by inviting them into the endless process of working out how to live as God created us to live." Velvet Elvis, p. 11
In the beginning was the Word, and the Word was with God, and the Word was God. And the Word became flesh and dwelt among us, and we have seen his glory, glory as of the only Son from the Father, full of grace and truth. John 1:1,14 ESV
Sanctify them in the truth; Your word is truth. John 17:17 NASB
Comment: Jesus had people "rethink" because they didn't think correctly to begin with! Why? They needed to come to an understanding of the Scripture as God's truth because they/we are blinded by our own sinful ways of thinking. Because they didn't understand the Scriptures, He had to open their eyes for that to happen. Is studying the Scripture meant to be an endless process for the actual purpose of not finding the truth but still somehow sensually and mystically enjoying the journey?
Scripture was/is for the purpose of knowing and obeying the truth that was already revealed but newly discovered by individuals. We continue to "learn" because there is so much to learn, not because truth is elusive or changing! We change as we have a new found understanding of the truth of Scripture as our minds and hearts are illuminated by the Holy Spirit of truth. In an attempt to come to personal and experiential truth, Bell bypasses that important point. Truth in the Lord Jesus Christ of the Holy Scriptures is both propositional and incarnational.
2. "Times change. God doesn't, but times do. We learn and grow, and the world around us shifts, and the Christian faith is alive only when it is listening, morphing, innovating, letting go of whatever has gotten in the way of Jesus and embracing whatever will help us be more and more the people God wants us to be." Velvet Elvis, p. 11
Beloved, while I was making every effort to write to you about our common salvation, I felt the necessity to write to you appealing that you contend earnestly for the faith which was once for all handed down to the saints. For certain persons have crept in unnoticed, those who were long beforehand marked out for this condemnation, ungodly persons who turn the grace of our God into licentiousness and deny our only Master and Lord, Jesus Christ. Jude 3, 4 NASB
Comment: Bell says the "Christian faith" is to change if it is to continue being alive! But, the "Christian faith" has been ONCE AND FOR ALL delivered to the saints and is in Holy Scripture. We are changing. It is not. It is "that" life that makes us alive and it is revealed and given to us in the Word of God. We are being conformed to Him because we are embracing that which speaks of Him – the Word ministered by the Holy Spirit of God. Then, he once again says, "Let go of what has gotten in the way of Jesus." Since when does the Christian faith as revealed through the Word of God "get in the way" of Jesus? He jumps from a propositional category to a "living-mystical" category and those who are not discerning are none the wiser.
The only way the "Christian faith" could get in the way of Jesus is if we actually bought into his little "spring-world" that he talks about on p. 27. In a nut shell, he compares two "ways" of looking at truth. One is brick-world and the other is spring-world. The bricks are as in a wall and the springs are as in a trampoline. He takes things like virgin birth and trinity and inspiration and would rather live with these in his spring-world. That way they are flexible: they can be set aside or break or bend or whatever. How really solid are these "truths" anyhow if we consider rethinking one of them and in so doing they "might change?" No problem according to Bell. We can still keep jumping in spring-world. I guess in one sense he is saying don't let anyone rob you of the joy of jumping in your self-created spring-world. Propositional truths might tie you down!
But the seed in the good soil, these are the ones who have heard the word in an honest and good heart, and hold it fast, and bear fruit with perseverance. Luke 8:15 NASB
"And as a part of this tradition, I embrace the need to keep painting, to keep reforming. By this I do not mean cosmetic, superficial changes like better lights and music, sharper graphics, and new methods with easy-to-follow steps. I mean theology; the beliefs about God, Jesus, the Bible, salvation, the future. We must keep reforming the way the Christian faith is DEFINED (emphasis), lived, and explained." p. 12
Teach me your way, O LORD, that I may walk in your truth; unite my heart to fear your name. Psalm 86:11 ESV
The sum of your word is truth, and every one of your righteous rules endures forever. Psalm 119:160 ESV
So Jesus said to the Jews who had believed in him, 'If you abide in my word, you are truly my disciples, and you will know the truth, and the truth will set you free. John 8:31, 32 ESV
Comment: The above texts of Scripture speak quite plainly don't you agree? The Bible defines the Christian faith, not us. The object of the Christian faith is Jesus Christ Himself. His work in His crucifixion, resurrection, and ascension defines us in our identity with Him. He is the center. We are not.
Bell furthers relates on p. 83 the following:
"And the Bible keeps insisting that Jesus is how God put things together. The writer Paul said that Jesus is how God holds all things together. The Bible points us to a Jesus who is in some mysterious way (emphasis added) behind it all. Jesus is the arrangement. Jesus is the design. Jesus is the intelligence."
And about a couple being married, Bell says on pages 76-77:
"The same force that brought them together holds the whole world together. I then asked, 'So today, your wedding is about something far more significant than just the two of you becoming husband and wife, isn't it?' They then said they would call this glue, this force, God."
It would seem he is re-inventing the God of the Scripture as a panentheistic deity through his choice of language. Panentheism is the view that the world is contained in and is a manifestation of the divine. But, on the contrary, God is a Personal Being that is all powerful and transcendent – not a force or glue of which we have "mystical amazement." I guess it should come as no surprise that Rob Bell's speaking tour in the summer of 2006 was titled "Everything is Spiritual."
Comment: Velvet Elvis has little outright panentheistic speech as sighted, but panentheistic thought seems to be interwoven deeply within the framework of the book.
The Apostle John warned of the spirit of antichrist that would invade the church even in the days of the apostles themselves. Even though present in the church they spoke what was actually false spiritual wisdom from the world.
They are from the world; therefore they speak from the world, and the world listens to them. We are from God. Whoever knows God listens to us; whoever is not from God does not listen to us. By this we know the Spirit of truth and the spirit of error. I John 4:5-6 ESV
And the Apostle Paul relates the following:
These things God has revealed to us through the Spirit. For the Spirit searches everything, even the depths of God. For who knows a person's thoughts except the spirit of that person, which is in him? So also no one comprehends the thoughts of God except the Spirit of God. Now we have received not the spirit of the world, but the Spirit who is from God, that we might understand the things freely given us by God. And we impart this in words not taught by human wisdom but taught by the Spirit, interpreting spiritual truths to those who are spiritual. The natural person does not accept the things of the Spirit of God, for they are folly to him, and he is not able to understand them because they are spiritually discerned. The spiritual person judges all things, but is himself to be judged by no one. For who has understood the mind of the Lord so as to instruct him? But we have the mind of Christ. I Corinthians 2:10-16 ESV
Paul says that spiritual truth is made clear in the mind of those who have the Spirit! It doesn't come in vague categories or mystical experiences, rather in spiritual words written down in Holy Scripture. We interpret and understand these texts of Scripture as any other human writings except for the fact that they are ultimately breathed out by the Holy Spirit through the authors. That same Spirit illumines these truths to our minds! It is articulated in human words and language, but because it is God's revelation via God's inspiration, it is God's TRUTH! (You find several instances in Velvet Elvis where Bell clearly downplays the role of God as Scripture was written.)
So, what does Velvet Elvis bring to the table to help in understanding the difference between spiritual truth and spiritual error? On page 40, there is one rather irrational and mystical moment where Bell tells of an experience he had after college while working at a youth camp. He was asked to speak for chapel and had an "experience" which was quite "Moses like" in that he took off his sandals because he knew the ground he was standing upon was holy. He depicts that an internal voice communicated with him in words that were clear and concise: "Teach this book, and I will take care of everything else." He relates that in those moments his entire life changed and that it was like a rebirth. Yet, he spends the entire book articulating how vague, unknowable, mysterious, questioning, and difficult The Holy Scripture is! How is it that one can hear a "clear and concise" voice (with accompanying words) to teach what he hammers at over and over again as ultimately unknowable in Biblical Words? So, it is somehow okay if this inner mystical voice is clear, but not okay that the Spirit could breathe out clear and concise words through the Scriptures for all the saints? He is clear about his mission if he knows he has a mystical, sensual, experienced based "Savior." But that isn't the Jesus of the Bible. If you want to understand the "spirit" of the emerging church, Velvet Elvis may be the best and only book you will need to read. But go to your public library and check it out – don't buy it.
The only conclusion a Christian can come to after reading Velvet Elvis is that it is a repainting of Christianity itself. It redefines the Lord Jesus Christ of the Scriptures and turns him into the "smiling-jumping" Christ with you as the center of a mystical, self-worshiping generation.