There are numerous teachers within Christian circles today who are directing much attention to the phrase "be still" found in Psalm 46:10a. Many times, they suggest it means you are to "enter the silence" or "empty your mind" and this is to be done in order to hear God's voice or be more aware of His presence.
Just like anything, we must ask ourselves if this is the correct interpretation and God's intended purpose. Does the command to "Be still and know that He is God" really mean we are to enter into silence? Does God need His people emptying their minds in order to guide and direct them? So, let's dive in and answer these questions.
The passage is quoted here from three different translations:
"Stop striving and know that I am God;…" NASB
"Be still, and know that I am God:…" KJV
"Be still, and know that I am God…" ESV
Reading the whole of Psalm 46:1-11 will help us:
"God is our refuge and strength,
A very ready help in trouble.
2 Therefore we will not fear, though the earth shakes
And the mountains slip into the heart of the sea;
3 Though its waters roar and foam,
Though the mountains quake at its swelling pride. Selah
4 There is a river whose streams make the city of God happy,
The holy dwelling places of the Most High.
5 God is in the midst of her, she will not be moved;
God will help her when morning dawns.
6 The nations made an uproar, the kingdoms tottered;
He raised His voice, the earth quaked.
7 The LORD of armies is with us;
The God of Jacob is our stronghold. Selah
8 Come, behold the works of the LORD,
Who has inflicted horrific events on the earth.
9 He makes wars to cease to the end of the earth;
He breaks the bow and cuts the spear in two;
He burns the chariots with fire.
10 'Stop striving and know that I am God;
I will be exalted among the nations, I will be exalted on the earth.'
11 The LORD of armies is with us; The God of Jacob is our stronghold." Psalm 46:1-11 NASB
In one sense, Psalm 46 is a warning by God against His enemies, and it is also an encouragement for His own people. This Psalm is saying God is with His people and a refuge when it looks like things are overwhelming (v. 1). Therefore, don't fear in the midst of troubles before God (v. 2). He is a sure foundation and an ever-joyful presence along with His mighty armies for His own people (vs. 4-7). Come and behold, look hard and long, at the mighty providential works of God (vs. 8-9) because there is no doubt He will be exalted among the nations (v. 10). God is a stronghold for His own people (v. 11).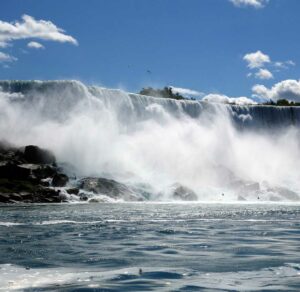 Some teachings associated with this verse might have you think there is a "gateway" of silence/calmness into the unknown called God and if you tap into it, you can know the unknowable. This is generally known as contemplative prayer (or contemplative spirituality). It is used as a meditative technique to embrace a transformed state of mind/thinking. But there is no actual Biblical instruction that tells us these things. Do we read anywhere in this passage that we are to silently position ourselves in order to know God? No!
The context for "be still" is to know God has complete sovereign control over everything and you are absolutely incapable of changing any of it apart from Him! And not only is He the sovereign over everything, but He is the refuge and strength and stronghold of His people. So, we might say, "Stop!" Be silent in the midst of all of the commotion of the world! Know that God is in charge over all of it! Come before God and don't fret about the overwhelming events around you! It has nothing to do with getting a personal word or instruction or impression from God if you are quiet or use the right technique.
Jonathan Edwards, the great American Theologian, said in his sermon on Psalm 46:10,
"The great works of God, wherein his sovereignty appeared, had been described in the foregoing verses. In the awful desolations that he made, and by delivering his people by terrible things, he showed his greatness and dominion. Herein he manifested his power and sovereignty, and so commands all to be still, and know that he is God." (Jonathan Edwards, Sermon The Sole Consideration, That God Is God, Sufficient To Still All Objections To His Sovereignty, June 1735)
"Be still" is not "entering the silence" so you can get feelings or impressions of the otherwise "unknowable" God. God has communicated His character qualities in creation (Romans 1:18-23), His appearances/thoughts in words, i.e. Scripture (1 Corinthians 2:1-16) and His very likeness in the Incarnate Son, Jesus Christ (Hebrews 1:1-3; John 1:14; Colossians 1:13-20). Are we required to "position our inner selves" in such a way – silence or stillness – in order to know a deity who communicates through impressions and feelings rather than words? Hardly!
I would suppose the world is attracted to those in the church who would take the phrase "be still" out of its' biblical context. After all, the world is told in various yoga techniques and false spiritual "awareness" teachings to either: center-down, breathe deeply, empty your mind, enter the silence, etc. So, the "be still" from Scripture might be used to falsely cater to some felt need rather than help someone understand and know actual thoughts about the God of the Bible.
In conclusion, the immediate context of the command "be still" or "cease" is that you cease "warring within" because it is God who is in charge of the armies of heaven (46:11) and in perfect watch-care over His people! He is our stronghold, defense and refuge in context. So "cease striving" (NASB) as if you are on your own because the people of God are to know Him in His mighty sovereignty as their God!
It might now make sense to us that Psalm 46 "was the scriptural catalyst for Martin Luther's great hymn, 'A Mighty Fortress Is Our God.'" (MacArthur Study Bible, ESV, Crossway, p. 775,)
*Many of the false techniques and teachings described in this article have come into many seminaries and multitudes of churches under the heading of Spiritual Formations. What they actually are is "contemplative spirituality" – teachings found in many traditions within the sphere of Christendom. They are based in an unbiblical view of the spiritual life of the believer that incorporates impressions, emotions, mysticism, etc. that is centered upon self. This in contrast to the truth of God as He is known in the objective Word of God, by the illumination of the Spirit of God to our minds and embraced by our hearts. Read more on

What is Spiritual Formation and Is It Biblical?
*For more on this subject of hearing from God, you can read: