Self Esteem: The New Reformation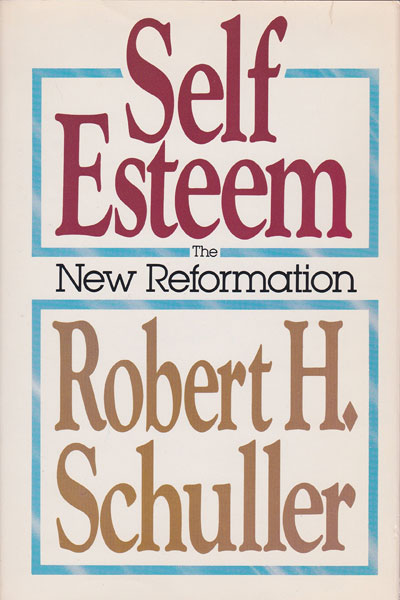 The following is a brief review of Robert H. Schuller's book Self Esteem: The New Reformation published in 1982.
Let's take a look at a few quotes from
Self Esteem: The New Reformation
.
"If only we could love ourselves enough to dare approach God, what constructive dreams he would give us!…

But we feel too unworthy. So one layer of negative behavior is laid upon another until we emerge as rebellious sinners. But our rebellion is a reaction, not our nature. By nature we are fearful, not bad. Original sin is not a mean streak; it is a non-trusting inclination. The core of original sin, then is LOT – Lack of Trust. Or, it could be considered an innate inability to adequately value ourselves. Label it a 'negative self-image,' but do not say that the central core of the human soul is wickedness. If this were so, then truly, the human being is totally depraved. But positive Christianity does not hold to human depravity, but to human inability. I am humanly unable to correct my negative self-image until I encounter a life-changing experience with nonjudgmental love bestowed upon me by a Person whom I admire so much that to be unconditionally accepted by him is to be born again."

Robert H. Schuller, Self Esteem: The New Reformation, Word Books, 1982, pp. 66-67.
(Schuller gives a follow-up golf ball illustration to confirm his point here. See pp 67-68.)
The above quote is Christian Humanism in a nutshell. Notice the following false doctrines:
A proper approach to God is gained based on loving ourselves and then daring to enter His presence.
Versus God's revealed reason for entry and accompanying attitude: "Since therefore, brethren, we have confidence to enter the holy place by the blood of Jesus,…let us draw near with a sincere heart in full assurance of faith, having our hearts sprinkled clean from an evil conscience and our bodies washed with pure water." Hebrews 10:19-22 NASB
Our outer nature of negative behavior (which is evidently based in low self-worth) flows out of an inner nature of fear and non-trusting inclination. This inner core of sin is thus redefined as the inability to value ourselves.
Versus God's view of the fallen human nature: "The heart is deceitful above all things, and desperately wicked: who can know it?" Jeremiah 17:9 KJV
 "And He was saying, That which proceeds out of the man, that is what defiles the man. For from within, out of the heart of men, proceed the evil thoughts, fornications, thefts, murders, adulteries, deeds of coveting and wickedness, as well as deceit, sensuality, envy, slander, pride and foolishness. All these evil things proceed from within and defile the man." Mark 7:20-23 NASB
Normally one would look at the cross of Jesus Christ and see that this is the demonstration of redeeming love. Schuller actually insists that God's love is a non-judgmental love and so totally undermines

the meaning of the cross of Jesus Christ

! (Notice: the new birth is unconditional acceptance as well.) The Jesus of his version would actually have been stupid to go to the cross! His version of Jesus could have just simply walked the earth and taught us how to look at ourselves differently and then we would have salvation. And, of course, his Jesus is not the real One.
Versus the real meaning of God's love and the nature of man and God: "But God demonstrates His own love toward us, in that while we were yet sinners, Christ died for us. Much more then, having now been justified by His blood, we shall be saved from the wrath of God through Him." Romans 5:8,9 NASB
So, when Schuller has a smile on his face and says 'Jesus loves you and so do I' – do you really know what he actually means? If he would say Jesus saves us from our sin, do you immediately ask the question: What "Jesus" and what "sin" does he mean? You should.