Community has become a very popular word in Christendom. That could actually be a good or bad thing, depending on what it is based upon. There is a worldly perspective on community. In fact, an internet search inquiry will readily show the importance of community from the world's perspective. Several words used to describe it include: support, encouragement, connection, fellow-feeling, etc. There is a common thread here. Do you see it? Those are the felt needs of humans as social creatures. The world knows of these things. But, they know of them apart from God.
If, by God's grace and mercy, He has made clear and communicated to our souls' that our true need is salvation in Jesus Christ – then our perspective about community should be greatly different than that of unbelievers. The unbeliever views those things in relation to themselves and others. God is not in the equation in their "community." That changes for those who are in Christ. They can now view community in a godly manner. Discernment then becomes very important for the purpose of enhancing true fellowship that is founded in a relationship with God and is also based in truth for an obedient mindset.
#1 God-Focused
Actual community for the people of God is first and foremost always based in the truth of the new birth and a reconciled relationship to God. The Bible calls it fellowship. Fellowship only happens as a result of walking in the truth of Scripture.
"What was from the beginning, what we have heard, what we have seen with our eyes, what we have looked at and touched with our hands, concerning the Word of Life 2 and the life was manifested, and we have seen and testify and proclaim to you the eternal life, which was with the Father and was manifested to us 3 what we have seen and heard we proclaim to you also, so that you too may have fellowship with us; and indeed our fellowship is with the Father, and with His Son Jesus Christ. 4 These things we write, so that our joy may be made complete.
5 This is the message we have heard from Him and announce to you, that God is Light, and in Him there is no darkness at all. 6 If we say that we have fellowship with Him and yet walk in the darkness, we lie and do not practice the truth; 7 but if we walk in the Light as He Himself is in the Light, we have fellowship with one another, and the blood of Jesus His Son cleanses us from all sin. 8 If we say that we have no sin, we are deceiving ourselves and the truth is not in us. 9 If we confess our sins, He is faithful and righteous to forgive us our sins and to cleanse us from all unrighteousness. 10 If we say that we have not sinned, we make Him a liar and His word is not in us." 1 John 1:1-10 NASB
The Apostle John's testimony was an eyewitness account of the Person and Work of Jesus Christ in the gospel! And those in the church had received that witness. The Spirit of God had made real in their lives the salvation they had in Jesus Christ. The resulting fellowship they now had was with both the Father and the Son! Of first importance!!!
But the Apostle John doesn't stop there.
#2 Truth-Based
John moves on from the reality of the new vertical relationship with God to that same fellowship being shared with other believers. This will happen as we walk in the truth – together!
"Beloved, do not believe every spirit, but test the spirits to see whether they are from God, because many false prophets have gone out into the world. 2 By this you know the Spirit of God: every spirit that confesses that Jesus Christ has come in the flesh is from God; 3 and every spirit that does not confess Jesus is not from God; this is the spirit of the antichrist, of which you have heard that it is coming, and now it is already in the world. 4 You are from God, little children, and have overcome them; because greater is He who is in you than he who is in the world. 5 They are from the world; therefore they speak as from the world, and the world listens to them. 6 We are from God; he who knows God listens to us; he who is not from God does not listen to us. By this we know the spirit of truth and the spirit of error." 1 John 4:1-6 NASB
Very early in the life of the church, discernment is classified as truth versus error. The Apostles of Jesus Christ had to deal with false doctrine and false witnesses. New Testament books are riddled with warnings concerning this problem. These false teachers came "disguised" as Galatians 2:4 tells us. So, what does John tell the Beloved? He points them to what the Apostles first told them about the Person and Work of Jesus Christ. The deceivers "speak from the world" because they do not listen to or receive the words of truth from the apostles. According to our text, they are to be "overcome" rather than to be received in fellowship. There cannot be real fellowship with them in the Biblical sense.
Issues of true faith are fundamental, not peripheral. It is not a matter of being loving versus unloving, nor nice versus not nice, nor unity versus discord, etc. The call of unity always falls on the heels of a call to truth. We want the whole truth of God in Christ Jesus so that we can have true fellowship with God and true and real fellowship with one another in Him.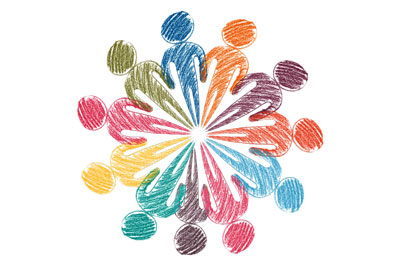 The perfect example of this is Jesus' High Priestly prayer in John 17. He prays, "Sanctify them in the truth; Your word is truth." John 17:17 Believers are set apart into the truth of the Word. Then Jesus prays, "The glory which You have given Me I have given to them, that they may be one, just as We are one" John 17:22 Notice the order: first truth from God, then fellowship among believers. He does not pray simply that Christians are one, but that we are one as He and the Father are one.
This focus of fellowship based upon truth can also be seen in Ephesians 4:1-16 where the command for oneness in Spirit is clearly based in the unity of – the one faith, one Lord, one baptism.
#3 Obedience Safe-Guarded
By discerning truth versus error, we stay on target, stay upon truth. We keep Christ the focus and help others keep Christ the focus.
"Watch yourselves, that you do not lose what we have accomplished, but that you may receive a full reward. Anyone who goes too far and does not abide in the teaching of Christ, does not have God; the one who abides in the teaching, he has both the Father and the Son. If anyone comes to you and does not bring this teaching, do not receive him into your house, and do not give him a greeting; for the one who gives him a greeting participates in his evil deeds." 2 John 8-11
This text may be one of the most overlooked texts in Christendom today – and it is having spiritually deadly effects. The text tells us that we can participate in someone else's wickedness by "receiving him into your house or giving him a greeting." In current cultural terms that would be "supporting" him. The people described are going beyond the teaching of Christ. They cannot, nor will not, stay within the framework of the orthodox truths of Scripture. If anyone helps them in any way, they are actually participating with them in their false teaching. We may actually participate in wickedness if we are not discerning.
Obeying this text takes conscious, investigative, and thoughtful action. Otherwise, we might "graciously" participate in someone else's wickedness. We cannot leave the discernment to someone else. It is individually up to us. For example, there are numerous books, videos, music, and conferences within Christendom that have the stain of unorthodox falsehoods within them. Might you have participated in this sin by:
1. Reading and studying in Sunday school class a book that is actually written by a heretic because it has "other good stuff" in it?
2. Sending money to CCLI licensing reporting because we "liked the music" of someone who is actually a false teacher?
3. Reposting things that seem "okay" without investigating the "who" of the post?
In our culture, seemingly just about everything is made to be "spiritual." But not everything that claims to be spiritual is of the Holy Spirit. To differentiate, we must have discernment, diligence and fortitude. The devil's seductiveness may be as simple as getting people to "participate" with false teachers or apostates. Having an attitude of passiveness is really partaking in the compromise. True saints remain loyal to only the Lord Jesus of the Scripture. Which category do you fall under?