The Gospel
The Greatest News of All
Give them the gospel. They need the gospel. Preach the gospel. The gospel is our only hope.
Yes! You may hear these phrases often, but what exactly is "the gospel?" In this article, we attempt to drive home the essence of "the gospel" in concise terms.
The Gospel is Good News in the Midst of Bad News
God created man in His image, but man rebelled against God becoming the object of His wrath. Romans 1:18 says, "For the wrath of God is revealed from heaven against all ungodliness and unrighteousness of men who suppress the truth in unrighteousness." The condition of each of us is the condition of everyone: born "dead in trespasses and sins" according to Ephesians 2:1. For "all have sinned and fall short of the glory of God" as Paul states in Romans 3:23. This is tragic news indeed.
Is there a remedy? The gospel is the only good news for man that actually deals with his awful condition before the Holy God of the Universe. Christ – the only perfect sacrifice for sin – died, was buried, and rose again to save a people for God His Father. He did this as a substitute for us and bore the curse which we deserved.
"Christ redeemed us from the curse of the Law, having become a curse for us—for it is written, 'Cursed is everyone who hangs on a tree'" Galatians 3:13
That is how much God loved us, despite our rebellion! The love of God is demonstrated in the death of Jesus Christ, His beloved Son. The Scriptures state in 1 John 1:7 that "the blood of Jesus His Son cleanses us from all sin."
The Gospel is Jesus Christ
The gospel is good news in that God sent His Son, Jesus, to the earth to become the substitutionary atonement for man's sin. Christ died for man but unto God. The gospel is for man in that it personally saves him from God's wrath, and it is unto God in that it satisfies His wrath and brings Him glory. It was a public display into this world of the greatness of His love because "while we were yet sinners, Christ died for us" according to Romans 5:8.
It is only by the regenerating power of God that a person's heart can be changed and transferred from the kingdom of darkness into the Kingdom of Light. Man can do absolutely nothing to change His condition apart from God. Man cannot merit or earn his salvation.
The gospel is a message of the person and work of Jesus Christ. It is a message of what He did in coming to the earth, living a perfect life, bearing the penalty of sin on the cross, being buried and raised from the dead three days later.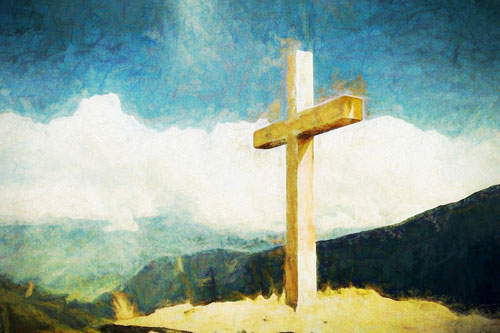 The announcing of the gospel is the means whereby a person can believe and receive its truth: "So faith comes by hearing, and hearing by the word of Christ." (Romans 10:17) Repentance and faith are what happen as the result of hearing the word of Christ.
The Gospel is God's Story
The gospel is God's story from start to finish. It greatly affects man, but it occurred outside of man. The ground of our salvation in the gospel is what God did in Jesus Christ. Jesus came into this world, died a perfect death and was buried and raised, whether you or I or anyone believe it or not. But God in His infinite mercy – drives His story into our hearts. He grants to us a change of mind (repentance), a turning away from our sinful self, and a turning toward Jesus Christ to place our trust solely in Him; a repentance and faith that brings us to Jesus as our only Lord and Savior!Accordingly, the Christian's testimony is about that gospel story demonstrated. The Christian's testimony is not "your story" that somehow God has written.
God is a Savior in the Person and Work of Jesus Christ – and He saves you and I. Have you ever cried out to Him for salvation? He is a living Savior, so you will be heard! The Apostle Paul said, "For I am not ashamed of the gospel, for it is the power of God for salvation to everyone who believes…" (Romans 1:16)
If you have already cried out to God for salvation and are a believer in Christ, you are His ambassador. As you live in this world, you represent Him! Evangelist Joe Conkle explains what it means to live as an ambassador for Christ.
A Plea for Ambassadors
By Joe Conkle
Therefore, if anyone is in Christ, he is a new creation; old things have passed away; behold, all things have become new. Now all things are of God, who has reconciled us to Himself through Jesus Christ, and has given us the ministry of reconciliation, that is, that God was in Christ reconciling the world to Himself, not imputing their trespasses to them, and has committed to us the word of reconciliation. Now then we are ambassadors for Christ, as though God were pleading through us: we implore you on Christ's behalf, be reconciled to God. 2 Corinthians 5:17-20
What is an ambassador? I want to highlight 2 definitions.
1). A diplomatic official of the highest rank appointed and accredited as representative in residence by one government or sovereign to another, usually for a specific length of time.
2). An authorized messenger or representative.
The question is: Are you and I living as though we are ambassadors for Christ? Are we actively sharing the message that has been commanded to us by the King of Kings and Lord of Lords? Are we actively making a conscious effort to share the Gospel with the lost?
Brothers and sisters, we have been given the ministry of reconciliation. God has saved us to share the Gospel, the Good News.
Since God has made us ambassadors to proclaim the message of the Gospel, it is a sin to NOT share the Gospel! James 4:17 says, "Therefore, to him who knows to do good and does not do it, to him it is sin." Isn't it good to share the Gospel?
Long ago before mass communications, when a kingdom defeated another kingdom, the new king would send out heralds, ambassadors, into the countryside, accompanied by a dispatch of soldiers to proclaim to all the land that there was a new king. The heralds command was simple: submit to the new king. If they refused, the soldiers would execute swift punishment.
We are that herald! But our King is loving, kind, and patient.
Our message is simple: Everyone has broken God's laws and we have sinned against the Creator. Every one of us has lied, stolen, used God's name in vain; we have broken all of God's commands. James even says if you've broken one law, you're guilty of breaking all of them. Romans 3:23 says "All have sinned and fallen short of the glory of God." That's the bad news.
The good news is that God came down in human flesh as God the Son. He was 100% man so He could represent us, and He was 100% God so He could bear the full wrath for our sins, so that He could pay the full penalty for the sin against a Holy God. Through His active obedience He lived a perfect sinless life, and through His passive obedience He went willingly to the cross. He allowed men to savagely beat Him, punch Him in the face, rip out His beard, and nail Him to a cross.
And on that cross the Father poured out the cup of wrath on His Son. He died, was buried, and on the 3rd day He rose from the dead. He fulfilled all righteousness.
Jesus' first command to His disciples and to us: preach repentance and forgiveness of sins. Later he ascended into heaven and is seated at the right hand of the Father waiting to gather His bride until His Kingdom is completed.
If you have not repented and put your trust in Christ, here is what scripture says:
He who believes in the Son has everlasting life; and he who does not believe the Son shall not see life, but the wrath of God abides (Present tense!) on him. John 3:36
As an ambassador of Christ, I implore you, be reconciled to God.
_____________________
Steve Lawson's Gospel Presentation
Please take a moment to listen to this powerful gospel presentation (approx. 9 minutes) by author and preacher Steve Lawson, President and founder of OnePassion Ministries.